Shopping list
Special additive for adhesion and flexibility – Power-B
How do I glue tiles to tiles or tiles to OSB tiles?
Make a cylindrical special primer made of Power-B additive, water and powdered tile glue, as follows!
adhesion bridge can be made

on tile and OSB foundations,

so they can be wrapped

the adhesive

 

 bridge

can be made of a normal or flexible tile adhesive

thus the bridge formation will be cement-based
rough,

therefore the tiles slide less on a vertical surface

provides a hard,

but

flexible

foundation

Using 1 litre of Power-B, you can make about 5kg

of primer

With 5 kg of prepared primer, about 15-25 m2

 of non-suctionable foundation can be laid

after foundation, the non-suctionable base

at 23°C is approximately 100 °C.

Can be wrapped after 3-4 hours
Mix power-B with water and tile glue: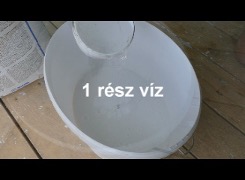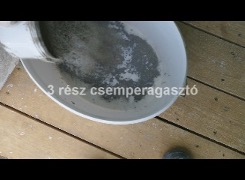 The measuring pot can be a sour cream box or small pot or any dish. The main thing is that the pot selected for the measurement = 1 part.
Measure the additive, water and dust with the same bowl.
After you have weighed the portions in the order above, let them stand in the bucket for 2-3 minutes, then mix. After mixing, let it stand again for 2-3 minutes and mix again. You can all start working with him after that. Remember, in this mixing ratio, you have made a rollable primer and you will apply it to the surface with a paint roller, on which you can cover after drying!
The material mixed with the Power-B additive increases the bucket time. So, it stops working in the bucket much longer without hardening, so it becomes easier, more flexible to work. You can work the next day with the material mixed in this way!
The HARZO Power-B additive is a versatile and intelligent product, so you can use it in several areas.
Shopping list